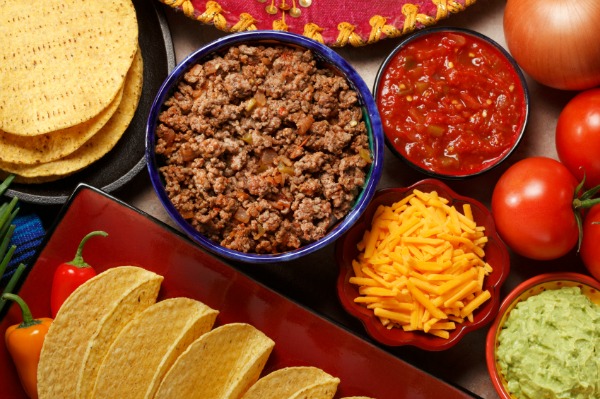 How much fun would it be to create a series of food stations around your home in order to host a fantastic, interactive lunch time feast?
Let's Begin with Beverages
Imagine this: guests arrive, drop-off their coats and purses, and then head out to the make- your-own beverage bars. One beverage bar can be set up with two blenders, ice, and all the fixings for Margaritas and Pina Coladas. Each blender will come with instructions on how to make the Mexican inspired blended drink of choice. The guests can then join others at the tables you have set up with finger foods and other snacks to keep them busy as they talk about the latest food trends they have seen on their favorite foodie shows.
Another beverage bar can consist of simple red and white wines and possibly even a specialty beer or two. This station needs a cork screw and bottle opener, but no instructions.
Your final drink station can be fun for the designated drivers in the group. You may choose to have another couple of blenders here for fruit smoothies or non-alcoholic versions of the previously mentioned Mexican delights. One of those soda makers seen for sale at the superstores might be a nice way to keep the non-drinkers involved in the drink-making process as well.
Let's Move to the Food
It might be tasty to have a few different build-your-own-lunch bars based on different places around the world.
Mexico
The easiest Hispanic cuisine to include in a bar format might be the standard taco bar. Include both corn and flour tortillas. Seasoned ground beef, shredded chicken, and refried beans will keep nicely in chafing dishes. Then all you need are the standard taco sides: salsa (green and red), shredded lettuce, tomatoes, guacamole, and plenty of cheese. You might even consider having a hot plate at this station so that vegetarian guests can make a quesadilla if they choose.
Italy
This bar can be a fun pizza bar, equipped with store bought personal pizza crusts, a selection of red and white sauces, cheese, pepperoni, and a variety chopped vegetables (i.e. artichoke hearts, mushrooms, thinly sliced tomatoes, red and yellow peppers, olives, green chilies, etc.) Set out a toaster oven or two and allow guests to build and bake their own pizzas. You may also consider having a few kitchen timers set about, so that guests can set a timer to avoid burning their meal.
China
This bar might need a bit more planning. Consider having pre-made skewers with teriyaki chicken and beef already threaded on the wooden stick. You probably do not want to have guests touching raw meat before they eat. I even suggest having these skewers pre- cooked to avoid the catastrophe of undercooked chicken.
Set up this station near your grill and allow guests to create vegetable skewers filled with a variety of veggies and perhaps even a fruit or two. Some vegetables you might wish to include are button mushrooms, red and yellow peppers, cherry or grape tomatoes, squash, zucchini, and onions.
Although not as common, there are some fantastic fruits that grill well, too. Try grilled pineapple chunks, peaches, apples, or pears. Their natural sugars interact with the heat source and create a fabulous caramelizing effect that will pair nicely with both the chicken and beef skewers your guests have selected.
Decorating Fun
Consider having each bar decorated according to the cultural theme you have selected.
Perhaps place a piñata on the taco bar, later to be destroyed by the kids at the event. No kids? It would be a blast for the adults to participate in an old childhood favorite! Perhaps have two piñatas, one for the kids and one for the adults. Fortune cookies and tea-light take-out boxes might be a delightful way to decorate the Asian themed bar. For a taste of Italy, a bottle or two of wine, some plump grapes, and candles can create nice Italian ambiance.
You might also consider decorating each guest table according to a different country around the world. Country flags are an easy decorative idea, but what about paper dolls or a card game with instructions from the country of choice? You could include interesting trivia on the table tops to provide your guests with thought-provoking topics to digest while they eat. Did You Know? The entire area of Italy is only about the size of Arizona.
A party surrounded by clever ideas and ways to keep your guests involved will surely create an event talked about for years to come.